Meridian Dallas Dungeon In Texas Is A BDSM Play Space Available To Hire To Dominatrices, Couples & Content Producers
The Meridian Dungeon in Dallas, Texas is a private BDSM Play Space & Kink BnBb available for rentals by Novices, experienced Players & Life stylers as well as Couples & Photographers, all welcome. Created by Professional Dominatrix Mistress Daria the Dungeon & Kink BnB is a passion project & a place to feel comfortable & secure. The Meridian has a wide variety of Equipment & Furniture available for use including but not limited to Bondage Beds, St Andrews Crosses, Cage & Swing as well as numerous implements for those hiring the facility such as Whips & Canes, Gags & Chastity Cages & lots more besides, please visit our site for a much more comprehensive listing of all our Equipment & items. We are also working on several prototypes & custom Furniture items too which will soon be available to order for your own private use. We also host a variety of Classes & Workshops to help people acquire the skills they desire to successfully engage in meaningful BDSM interactions. Classes include erotic touch mixed with BDSM techniques for Couples & Domination fundamentals & techniques which are open to everyone. Our aim is to educate & help all visitors be more confident to explore their Fantasies, details & dates for up & coming Classes can be found in the dedicated section on our web site.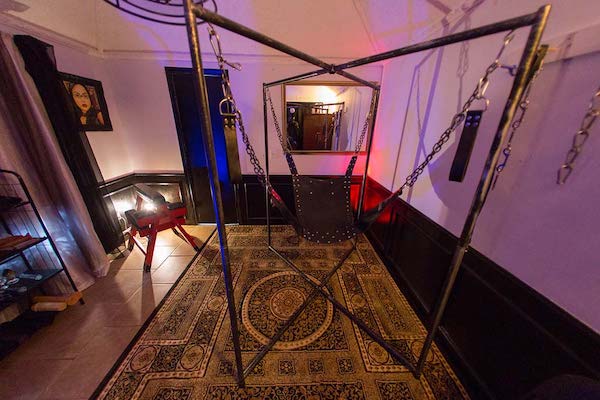 At the Meridian Dallas Dungeon it's absolutely necessary that everyone interested in renting, fills out a booking form which can easily be found on our site along with our current rates. You will also be required to sign a liability waiver. We understand that you value your privacy & will do the utmost to accommodate you. Rentals are not available to persons under 25 years old. The Meridian welcomes newcomers & novices, as well as experienced Players & Veterans. There's something for everyone! We accept Couples, Life stylers & very small groups. For parties over three please contact us to discuss your requirements & potential numbers.Dallas Dungeon rentals facilities are also available to Photographers & Content Producers for which there is a courtesy bookings rate. Your Professional standing must be verifiable by a strong Marketing & Internet presence & in some instances references may apply.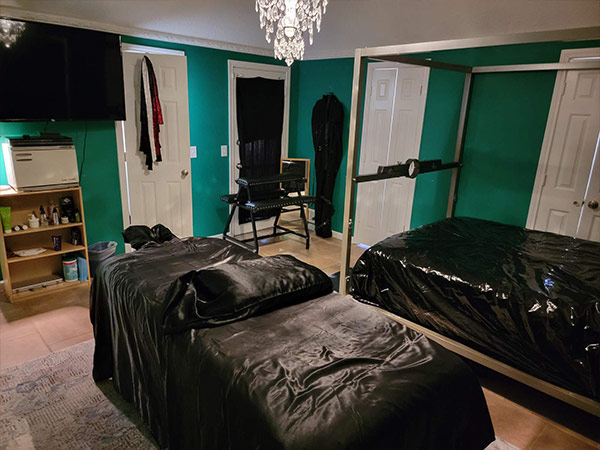 The Kink BnB at the Meridian Dallas Dungeon is the perfect short vacation for Kinky Couples. Spend a wicked weekend with your Partner at our private & discreet AirBnB style Dungeon. Indulge in all our rooms packed with BDSM Furniture & Fetish Gear, it's sure to be an unforgettable Staycation for adventurous & Kinky Couples. The Kink BnB has all the amenities that an AirBnB offers including: private parking, high speed internet, TVs, fully stocked bathroom, fully stocked kitchen, towels, linen, washer, dryer & more. Explore the city of Dallas while staying at the Meridian Dungeon. The Arts District offers a walkable downtown hub of creativity including Museums, Restaurants & performing Arts venues. Uptown Dallas is a dynamic district of shopping & nightlife to enjoy in between your Kinky adventures in our BnB.
More information from Meridian Dallas Dungeon by clicking the links below.
Site Links
Meridian Dallas Dungeon Web Site
Meridian Dallas Dungeon On Twitter
Meridian Dallas Dungeon Proprietor Mistress Daria
Visiting Dominatrix & Classes News
Developing Your FemDom Skills Class – January 2023
Kink On The Table Couples Class – December 2022
Mistress Nina Mar – December 2022