Whilst we do have our own banners which you can see below we prefer you to write something about Hogspy on your web site or Blog page or include us on your Tumblr page or FaceBook page or any other web site you own or operate including Twitter Retweets.By all means add our banner but please do so somewhere prominently such as your front page, in other words somewhere where it will be seen.
Remember if you want to write on your site about your own article then just search for it using the search facility on the site which is the small Box on the top right hand side of every page, enter your Pro Domme name then click the title of your article which will open a brand  new window dedicated to your piece which you can then use to link to in the usual way.
Below are our 5 different banners to choose from, use any of them you like but please place prominently.
Our web site address to link a Banner to is:  http://www.hogspy.com

Or

Or

 Or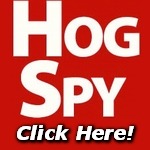 Or