8th – 15th October 2015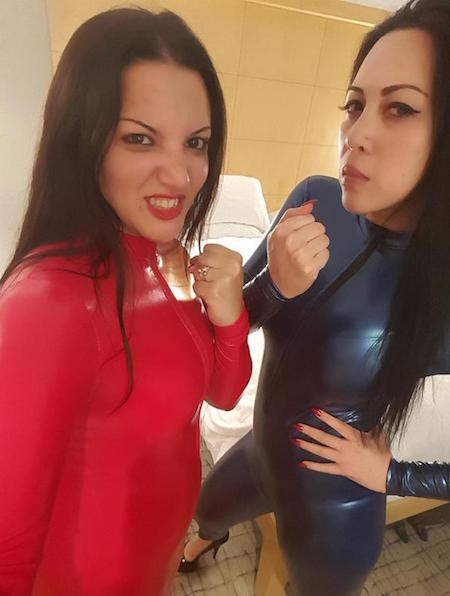 Travel news continues as Mistress Michelle lacy visits the East Coast of America.
Michelle lacy hits the road once again & heads to Long Island & New York City from where She will be conducting Female Domination Sessions which are set to take place during the dates displayed up above. During the majority of this tour Mistress Michelle Lacy will once again be joined by Her close friend & associate Ms Lydia Supremacy & together they're offering a limited number of double Domination Sessions. Applications to Serve the Dominatrices whilst on the road can now be Submitted via either of their web sites & by completing the forms easily found there. FemDom Sessions are scheduled to run from early until late while the Mistresses are on tour & are open to beginners as well as the more experienced slave & submissive but please note that you may be required to pay an advance deposit in order to confirm your appointment. The East Coast dates:
Long Island from the 8th – 13th October 2015
New York City from the 14th – 15th October 2015
Worth pointing out that Ms Lydia will join Mistress Michelle Lacy from the 11th until the 15th of October taking in both destinations along the way & aside from double Domination Sessions individual FemDom activity might be possible with either Dominatrix, subject to their schedules allowing for such. Please be clear in any application made as to not only where you wish to be Used & Abused but also as to whether you're seeking solo or double Domination expereince.
Ms Lydia Supremacy is an experienced Dominatrix who's mostly located in Philadelphia in the United States but who travels frequently, mostly in America, sometimes further afield & enjoys a wide variety of different types of scene & activity when in the Dungeon which includes but isn't limited to Behavior Modification, Corporal Punishment & Foot Worship to name just a few, check out Ms Supremacy's web site for a much more comprehensive listing as to Her FemDom preferences or contact Her respectfully to discuss your own particular Kink or scenario should it not be mentioned.
Mistress Michelle Lacy is also an experienced & established Domina who divides Her time between the East Coast & South Florida with frequent travel in between & who also enjoys a large variety of different types of Female Domination Session including Human Ashtray Training, Verbal Humiliation & Breath Play to name a small selection, Mistress Lacy's web site also details lots more activities that She enjoys, including Chastity Training along with Key holding & extended lock ups for those seeking a more ongoing arrangement.
You can find out lots more details, apply to Serve on the East Coast from next week, see additional pictures & more via the web site of Ms Lydia Supremacy
Alternatively you can Submit an application to Serve in Long Island or New York City as well as see more pictures via the web site of Mistress Michelle Lacy