Venus In Furs By Sardax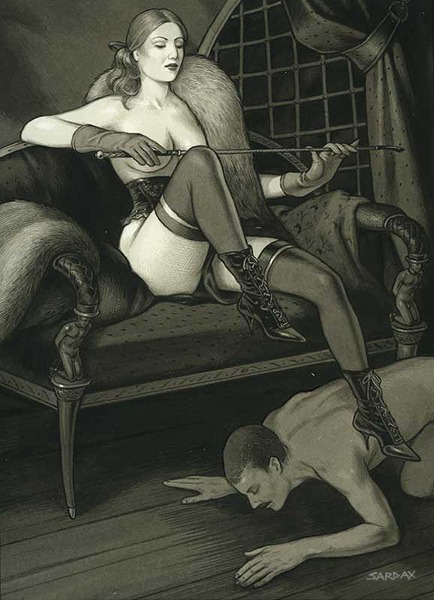 Internet news in from Sardax who has recently launched his first E-book on Amazon.
Sardax
British Femdom artist Sardax has now illustrated this famous novella with over 10 sumptuous paintings & published it together as an e-book on Amazon with a completely new translation. First published in 1870 , Venus in Furs is a classic romance of tragic Eroticism depicting the intense adoration for Wanda of Severin who desires to become Her slave & their developing relationship which reaches a very surprising conclusion.
Born 1836 in Lemberg in the Austro-Hungarian empire (now Lviv in Ukraine), Sacher-Masoch was a very popular writer of German fiction, often short stories depicting the types of regional characters of his day but Venus in Furs remains his most famous & significant novel, one of very few translated into English & other languages & still in print today. The author has had the singular fame or notoriety, along with De Sade, of having his name applied by Krafft-Ebing in Psychopathia Sexualis to the sexuality which he so famously depicted in Venus in Furs. The book has become an icon & been turned into movies, plays & television.
Now London based artist Sardax has illustrated this famous novella with over 10 sumptuous paintings and published it as an E-book together with a completely new translation. For over twenty years Sardax's Femdom art has been published in books & magazines & he continues to maintain his membership website  alongside selling original artwork & commissioned portraits.
 He describes the Venus in Furs project as his labour of love, which was conceived over 10 years ago. "As the seminal work on Femdom", he says, "it was what I was always meant to illustrate. It's the best of me" You can buy your Venus In Furs Sardax copy as an E-book  via the Amazon web site.
Find out loads more information about The Venus In Furs E-book & view plenty more artwork samples via the Sardax web site