Domestic FemDom Celebrate 3 Years & 200 Clips Produced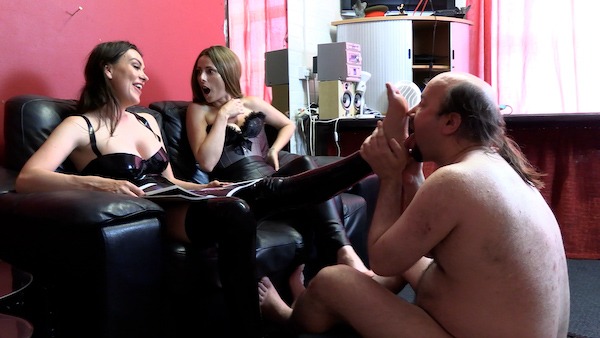 Fetish film production news in as Domestic FemDom celebrate their 3 Year landmark in the industry & reach a 200 clip milestone.
Online
UK FemDom Producers Domestic Femdom have reached two landmarks recently. The first of which was a 3 year anniversary. The store has been putting out regular updates since its launch in June 2019. The second is the recent publication of their 200th clip.
The 200th clip was entitled 'Eating Cum from Sweaty, Disgusting, Feet' & stars Miss Cate McQueen & Goddess Aveena along with a very Foot hungry sub, namely Eyemblacksheep. It had been filmed during the mini UK heatwave in June 2022, one of the later clips of the day. In it the submissive is to Worship the two Feet of the Ladies who are surprised at how much he enjoys the sweaty Feet to the point it can make him cum & of course lick it all up ! The clip is available here
Hogspy caught up with the team at Domestic FemDom who explained,"It's apt this was our 200th clip," states DF, "Sweaty Feet really is one of our best categories. It was also nice to include a Lady we have filmed a lot of, Miss Cate & someone who we'd not previously had opportunity to shoot with, Goddess Aveena"
It's a significant landmark for the UK company who champion in celebrating many aspects of Femdom & have worked with a diverse range of performers in that time including Devon Breeze, Miss Wildfire, Lady Voluptua, Lady Valeska, Mx Valleycat & Foxtress.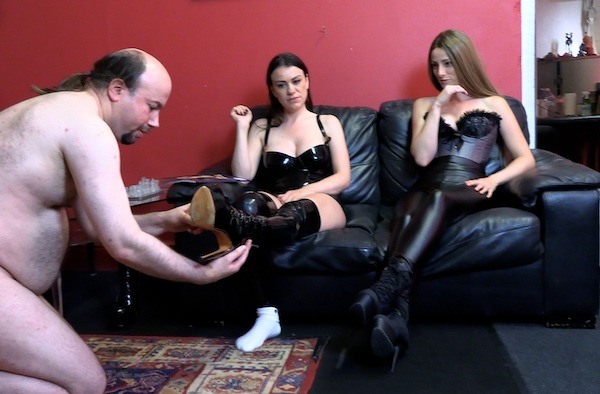 As well as sweaty Feet they do cover a wide range of Fetishes. Human Ashtray is another of their popular categories but also Pegging, Domination, Spitting & Ballbusting & more
Talking about the future the message seems to be more of the same, Domestic FemDom continued "We've more clips to come from some of the many folk we've shot with in the past. I'm sure there'll be some familiar Faces & some new Faces. Both in terms of newbies, there are a few people who did their first ever clips for our site. But also as in people who are known but we've not yet shot with"
"Perhaps one wish is to be able to do more shoots up here in the North of England. While I love travelling around the Country, shooting more in the North-East would be nice especially as we do now have a couple of venues on board who are very encouraging of our ideas!" Here's to the next year and next 100 clips!
You can find out more & check out the full range of clips & films via the Domestic FemDom web site