Morrigan Hel New York FemDom Tour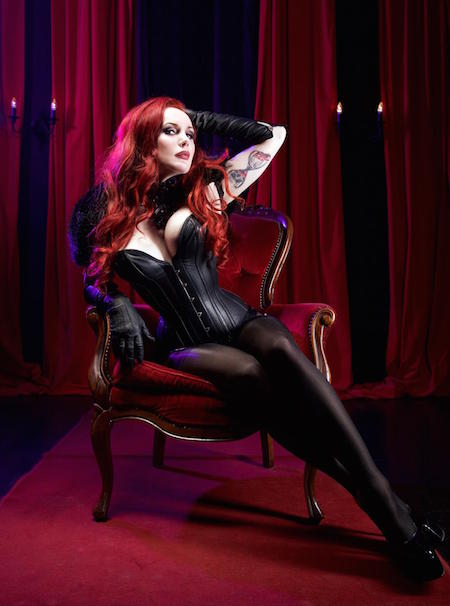 Spring travel news as Mistress Morrigan Hel visits New York City very soon.
11th April 2015
Mistress Morrigan Hel makes a rare trip to the East Coast of America from where She'll be conducting a very limited number of Female Domination Sessions which are scheduled to take place on one day only as per the date displayed up above. Polite applications to Serve  Morrigan Hel whilst in New York can now be Submitted via Her web site & by utilising either the direct email address or telephone number shown there. FemDom Sessions are open to beginners as well as the more experienced slave & submissive & will run from early until late, however, please note that you may be required to pay an advance deposit in order to confirm your appointment in Mistress Hel's presence.
As mentioned this is a rare opportunity to Serve Morrigan Hel in the Big Apple & one that will no doubt prove popular with new & old fans alike so with this in mind early requests to be used are encouraged so as to avoid disappointment. At present Mistress Morrigan Hel is finalising the exact Studio or Dungeon that She'll be Dominating from whilst in New York City, keep a close eye on Her web site  & Twitter feed for confirmation of such just as soon as it's announced.
Usually located in London from Her own well appointed facility namely the Murder Mile Studios Mistress Morrigan Hel is an experienced Dominatrix & Latex Model who enjoys a wide variety of different types of scenes & activities which includes but isn't limited to Mind Control, Slut Training & Corporal Punishment to name just a few, check out Mistress Hel's web site for a much more comprehensive listing as to Her FemDom preferences or contact Her respectfully to discuss your own particular Kink or scenario should it not be mentioned. Chastity Training along with Key holding & extended lock ups is also an option for those slaves & subs seeking a more ongoing arrangement, likewise, Financial Domination, pre arranged Shopping excursions & other forms of non Dungeon based situations might also be possible as well.
You can find out more, apply to Serve in New York City this coming weekend, see additional pictures & lots more via the Mistress Morrigan Hel web site