4th – 10th October 2015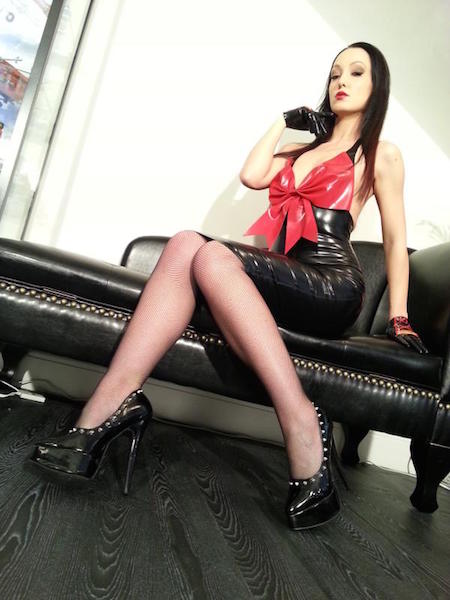 Film slave news in as Fetish Liza returns to London this weekend to shoot FemDom Clips.
Fetish Liza makes a much welcome return trip to the English Capital of London in England from where She's undertaking a vast amount of Film shoots which are scheduled to take place during the dates displayed up above. Filming & photo shoots will be taking place from a centrally located Dungeon in the heart of London & will begin from early in the morning & run through until late in the evening on each day. A very limited amount of opportunities still exist for suitable slaves & submissives to be used by Fetish Liza & Her friends during these productions.
Mistress Rebekka Raynor, Miss Mighty & Miss Foxx are just some of the Dominatrices who will join Fetish Liza during this London Filming frenzy with the content produced being used for the Mistresses various different web sites & Clip stores.
Applications to be used on the various different days of Filming are now being considered by Fetish Liza but only the most reliable & genuine applicants need apply who should enjoy a wide variety of different types of Domination styles & scenarios & be comfortable appearing on camera. You must be of legal age to apply for any of the last remaining Film slave opportunities & be expected to sign a Model release form on the day of the shoot, no fees will be paid to successful applicants.
You can apply to Fetish Liza to offer your services by utilising the direct email address easily found on Her web site & keep up to speed on all the very latest Film slave announcements for this London trip via Her Twitter account
Worth mentioning too that during this London visit a limited number of non Filming Sessions will be available in the Capital, again, applications for such can now be applied for.
Fetish Liza is an experienced Dominatrix & FemDom Model who featured on our Motorbike special & travels extensively within Europe, sometimes further afield & enjoys a wide variety of different types of Female Domination activities which includes but isn't limited to Corporal Punishment, Anal Training & Foot Worship to name just a few, check out Fetish Liza's web site for a much more comprehensive listing as to Her Domination preferences or contact Her respectfully to discuss your own particular Kink or scenario should it not be mentioned. Chastity Training along with Key holding & extended lock ups is also possibility for those slaves & subs seeking a more on going arrangement. Fetish Liza also has a Fan Page packed with  pictures & exclusive Film
You can find out lots more information, apply to be Used & Abused as a Film slave in London soon by Fetish Liza as well as see additional pictures & more by checking out Her web site